Our Attorney
Ray Bulaon, Attorney at Law
Ray Bulaon was born in the Philippines and immigrated to the United States when he was 16 years old. After coming to America, he and his wife struggled financially as a young law student with a family to care for, job losses, and a seemingly never-ending stream of bills. Ray learned firsthand what it means to suffer under the weight of debt and feel as if there is nowhere to turn for help for protection against creditors.
Later, upon completing his studies and earning his Juris Doctorate degree, Ray was admitted to the California Bar in 1997. After 7 years of work as a paralegal and an attorney at one of the state's largest bankruptcy firms, he decided to head out on his own and begin his own practice, what is now RJB Law Offices, in 2001. Ever since, he has successfully aided more than 4,000 individuals and businesses in Chapter 7 and Chapter 13 bankruptcy. He is licensed to practice in all State courts as well as the United States District Courts in the Central and Southern Districts of California.
Outside of his legal practice, Ray can be found spending time with his wife, Sarah, and their three children, Jessi, Jake and Josh. Ray is dedicated to his family and believes that they should always take priority.
Ray is passionate about putting his education and experiences to work to help others overcome their difficult financial circumstances. With an understanding that trying financial times can befall anyone and a dedication to acting quickly to protect his clients' interests, Ray has what it takes to help you conquer your financial struggles and get on track towards a debt-free future.
Dustin Bulaon
Juris Doctor
Senior Case Manager
Dustin has been with the firm for 8 years and has provided invaluable assistance to the firm's attorneys in preparing and managing thousands of cases. Having spent several years attending law school at night and working full-time during the day, Dustin earned his Juris Doctor degree in June 2016 and is preparing to take the California Bar Exam to achieve his ultimate dream of becoming a licensed attorney. He is a firm believer that staying optimistic and keeping a good attitude no matter how troubling your circumstances may seem will make a positive difference in your life. Outside of the law firm, Dustin can often be found snowboarding, skateboarding, watching live music, and volunteering at Neighborhood Legal Service (NLS) in Glendale.
Jessica Bulaon
Marketing Assistant
Jessica is a Marketing Assistant at RJB Law Offices and a 2016 Sociology graduate from UCLA. A passionate advocate for social justice and frequent community volunteer, Jessica is a disciplined and analytical thinker with impeccable personal skills. She is currently preparing to attend law school and pursue her dream of making a positive difference in other people's lives as an attorney.
Sarah Bulaon
Law Office Administrator
Sarah is a strong and kindhearted woman with a clear vision of how to support our firm's clients. She understands the importance of establishing a positive and comfortable work environment with open lines of communication among staff in order to ensure the law firm works as an efficient team at all times, allowing us to better assist our clients with their specific needs. She is passionate about building good relationships with clients and strongly believes that constant training and staying true to our firm's mission statement are key in maintaining those relationships. Sarah spends her free time volunteering at church, participating in outdoor activities, and traveling with her family.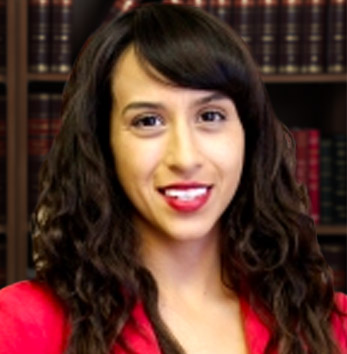 April Banuelos
Client Relations Manager
April Banuelos is a highly-motivated, conscientious young woman who is passionate about assisting people during their greatest times of need. Her passion for law first began when a disabled friend of hers was physically abused by his trusted caretakers. With the assistance of several attorneys, she was able to ensure that her friend was released from his abusers and that they were held responsible. Following this experience, she decided to pursue a degree in paralegal studies.
As a client relations manager, April understands the oftentimes sensitive needs of clients who are often going through a challenging time in their lives. She provides important assistance to the firm's attorneys and other staff in both the preparation and management of cases. April enjoys spending time with her family and participating in activities such as auto racing, motocross and camping. She also remains committed to advocating for the wellbeing of developmentally disabled persons within her community.